I am writing an article on the way that I achieve texture in my pastel paintings. I have posted many of them here on my blog but do not often include images of work in progress. In the article there are at least two with more than four stages included and some with two stages. It should be available in the next few days on Squidoo. I will include a link to this as soon as it is complete.
In fact it will be here
but will not be available until it is published.
I work in layers so that I can work the colours of the layers against each other as I build up the painting. It is a process I found for myself whilst learning how to use pastels but it is probably not new or unique but does give excellent results. As I worked it out for myself I like to think of it as "mine" but don't bite my head off.
My work space at the art group
set up for pastel work
note the pastel sticks, I always work with a limited palette
This shows the work after two layers of pastel, note the texture
After red and purple and black colours added, the start of the detail layers
At this point all layers are fixed
The moon is painted
The sillouette of the tree is painted (these last details are not fixed)
You will be able to read fuller details in the article on Squidoo, I hope you will find it interesting.
This painting is now available on Zazzle as a canvas print and will soon be available on posters and other products.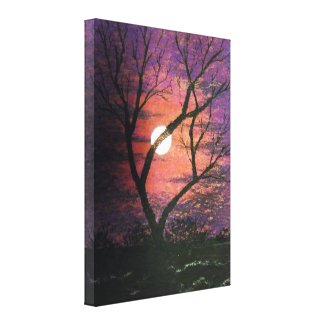 Moonlight Gallery Wrap Canvas
by
artyfax
View other
Pastel Canvas Prints